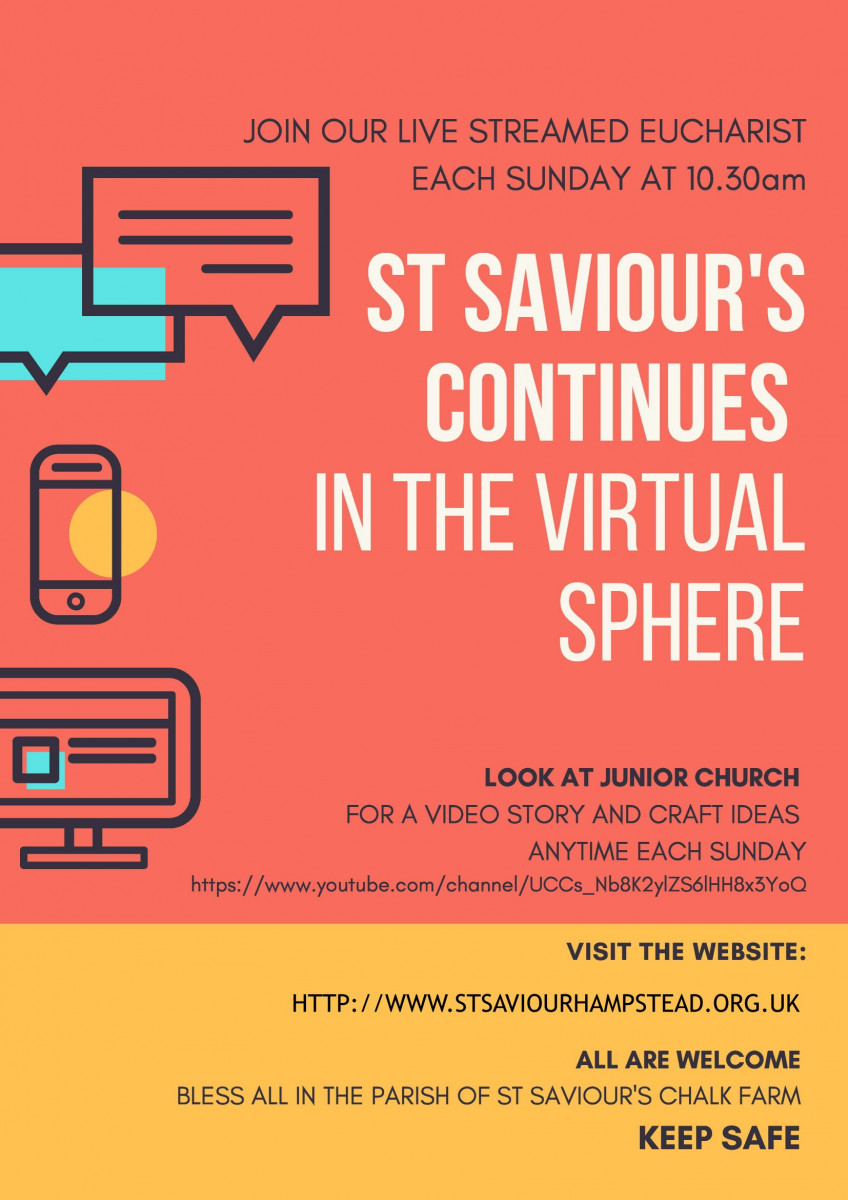 Every Sunday until at least the end of May at 10:30 am we will be Live-streaming the Eucharist on Zoom.
Join Zoom Meeting
https://us02web.zoom.us/j/88301740410?pwd=VTZLQkN3OW4vQkR2SUorOEFEdTZpZz09
Meeting ID: 883 0174 0410
Password: 789892
You can download the order of service here.
HOW TO JOIN US
Click on the Join Zoom meeting link above, then when asked, open Zoom, or join via your browser. You might be asked to download it if you haven't done so already.
Please join with computer audio.
You might need to put in the password which you'll find underneath the link.
You will be asked to wait until Helen has admitted you, and once in, please start your video (bottom left hand corner) unless you prefer not to be seen
If you have difficulties connecting, please open your Zoom app (once downloaded) and ask to join a meeting.
Then type in the ID and the password above.
Any problems during the service, you can open "chat" at the bottom of the screen and ask Helen to help you by sending a message.
Father Petrica has also made a video and provided some activities for our Junior Church - please see the "Sunday School" page for details.
You can see Father Paul's sermon for Pentecost (Whitsuntide): "The Breath of Holy Spirit" here.
This and other sermons from Father Paul and Father Petrica can be found on our YouTube channel.
Guidance on Financial Shock and Loss of Earnings
during the Pandemic
Apart from fear of Corona Virus itself, another very real result of the current lockdown is its effect on the economy and on jobs.
Here are some links with advice from Christian Charity Capital Mass:
https://www.capitalmass.org.uk/perch/resources/files/coronavirus-financial-help-resources-updated-21-04-20-1.pdf
https://www.capitalmass.org.uk/perch/resources/files/uc-leaflet-v4.pdf
---
Dear Visitor,
Welcome to St. Saviour's Website.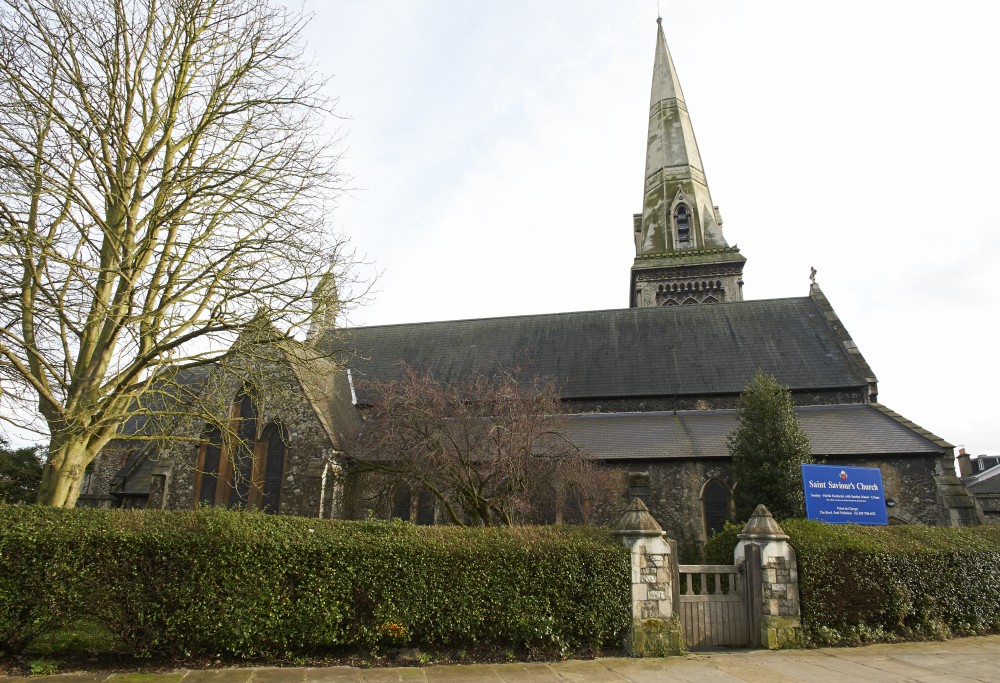 The Anglican Church of St Saviour is a Christian community that worships in a fine Victorian church building which lies in a tranquil setting very near, but set back from, the bustle of Chalk Farm in London NW3. There are usually two Sunday services, unless there is a Sunday evening concert. Our congregation for Sunday Parish Eucharist is not large, yet is a healthy mix of young and old, and provides Junior Church activity for young people between the age of 3 and 14.
The church is open most Tuesday, Thursday and Friday mornings from 8.30-9am, most Saturdays from 9.30am to 11am, and most Wednesdays from 8.30am to 3.30pm. We also have a mid-weekly daytime service of Holy Communion, which is followed by lunch together. Each weekday except Monday there is some prayer and worship in the church, and we host a rich variety of concerts in St Saviour's fine acoustic. In our Octagon Hall, next door to the church, there are a range of regular users, in addition to a private 'Octagon' Day Nursery for pre-school children, and other occasional hirers. St Saviour's Church Buildings are also used on Sundays by 'Shoreline Calvary' - an American evangelical church.
St Saviour's Mission Statement:
In Christ we welcome everyone: to grow together in faith that we might share the unconditional love of God for all
PCC Safeguarding Policy Statement
Every person has a value and dignity which comes directly from the creation of male and female in God's own image and likeness. Christians see this potential as fulfilled by God's re-creation of us in Christ. This implies a duty to value all people as bearing the image of God and therefore to protect them from harm.
We accept and endorse the principles set out in 'Safeguarding in the Diocese of London'.
We commit ourselves to nurture, protect and safeguard all our members, particularly children, young people and vulnerable adults.
We recognise that safeguarding is the responsibility of the whole church community.
We undertake to exercise proper care in the selection, appointment, training and support of those working in both paid and voluntary positions with children or vulnerable adults, including the use of Disclosure and Barring Service (DBS) disclosures and making appropriate referrals to the Disclosure and Barring Service.
We will respond without delay to concerns or allegations that a child or vulnerable adult may have been harmed, cooperating with the police and social care services in any investigation.
We will challenge any abuse of power by anyone in a position of trust.
We will seek to offer pastoral care and support to anyone who has suffered abuse, developing with them appropriate pastoral support.
We will seek to offer pastoral care and support, including supervision and referral to the proper authorities, to any member of our church community known to have offended against a child, young person or vulnerable adult.
The PCC of this Church agreed and adopted the above Policy at its meeting on 9th July 2019
We have appointed HELEN NICHOLSON as our Church Safeguarding Officer (CSO). Copies of "Safeguarding in the Diocese of London" and any parish guidelines and procedures are held by Helen Nicholson (phone 07971 223764; email nicholsongarrison@gmail.com)
The PCC shall review this policy annually. The next review will take place at the first PCC meetingfollowing the APCM to be held in April 2020
Priest in Charge (Revd.) Paul Nicholson; Churchwardens Barbara Brend; Claire Brown
The original signed copy of this Policy is on display on St Saviour's internal noticeboard
Useful contacts:
CCPAS (Churches' Child Protection Advisory Service) 0845 120 4550
Child Line 0800 1111
NSPCC 0808 800 5000 (24hrs)
Camden Council Services:
020 7974 4000 (Social Care Services Call Centre)
020 7974 3317 (Children social care)
School Admission. St Saviour's is a feeder school to St Paul's Church of England Primary School, NW3. Children are eligible for admission to a Church place at St Paul's if their families have attended worship regularly (i.e., once every two weeks) at St Saviour's over a period of 2 years prior to application, and providing there is not another C.E. Primary School geographically closer to their home.
Please take a look at what we offer on this website, and come and visit us at St Saviour's.
All best wishes,
Paul Nicholson